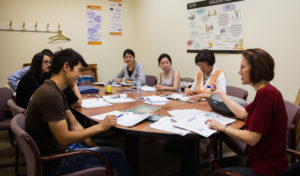 Our groups consist of a maximum of 8 students. At any given moment we have courses running at different levels: Starter, Elementary, Pre-Intermediate, Intermediate and Upper Intermediate. We also run IELTS preparation courses.
We have excellent local teachers who teach Starter, Elementary and Pre-Intermediate level. For the Starter classes, Russian is the main language of communication. For the Elementary classes, English predominates and in Pre-Intermediate classes, the main classroom language is English. Our Intermediate and Upper-Intermediate level classes are taught in English by native speakers.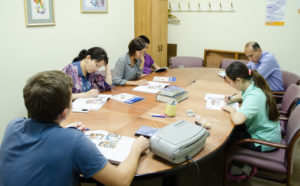 Our courses usually last 3 – 3½ months. We also have children's groups for those 7 years and older. It is possible to take private classes during the day, but that depends on the availability of teachers and scheduling of classrooms.
At the end of each course we give out certificates to those students who achieved an average score of 70% or more on their test(s) and who've attended 70% or more of the classes in their course.